When I got my Canon EOS 5D, I naturally had to get a new bag to carry it, since it is a significantly larger camera.
I had the Lowepro brand on the top of my list of camera bag manufacturers, since I had a Lowepro Slingshot 100 AW, as well as a Slingshot 200 AW in the past. Much reading and research led me to the Flipside 400 AW.
Since I have had sling-type bags before and did not like the discomfort and instability of the Slingshot series, I definitely wanted a real backpack, especially since I would be lugging around a significant amount of weight now. A bigger bag would also allow room for gear expansion later on. The Flipside 400 AW seemed to fit the bill.
It's a nicely constructed bag, certainly better built than the Slingshots I had, and looks like it will hold it's body well over time.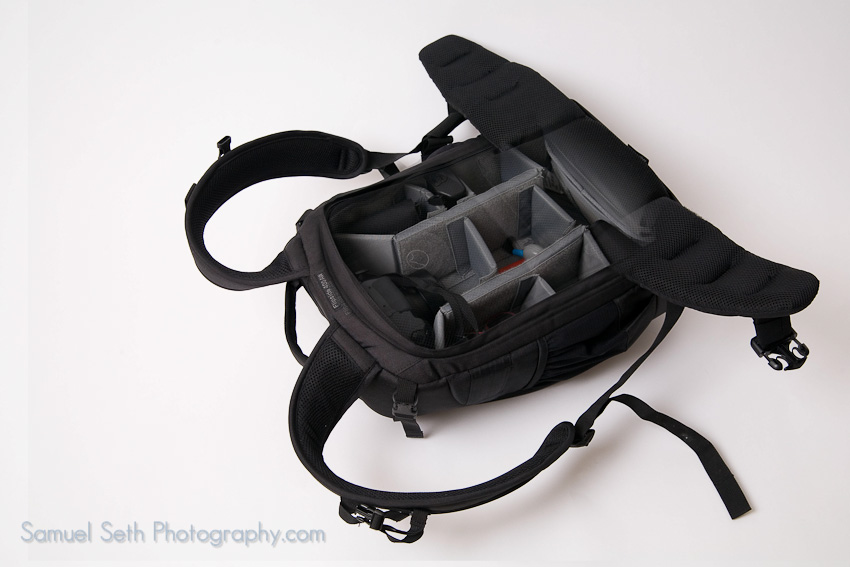 Lowepro puts a different spin on the conventional backpack design, by moving the access panel to the strap-side of the bag, instead of the back, outer shell area. Thus the name "Flipside".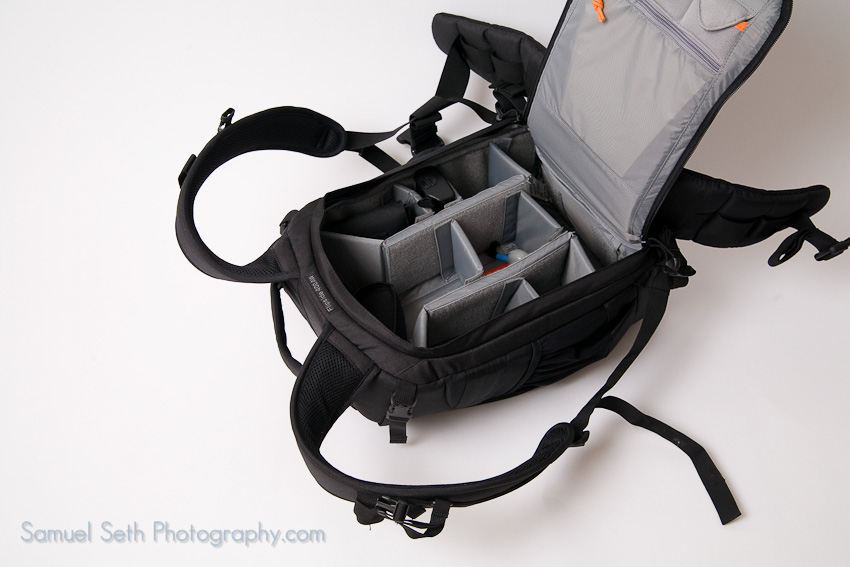 It claims to offer added security, which I believe, as well as improved access on the go. By buckling the well-padded waist strap, you can remove the shoulder straps and spin the bag around to your front, allowing access to your gear- to change lenses, bodies, flashes, memory cards- whatever.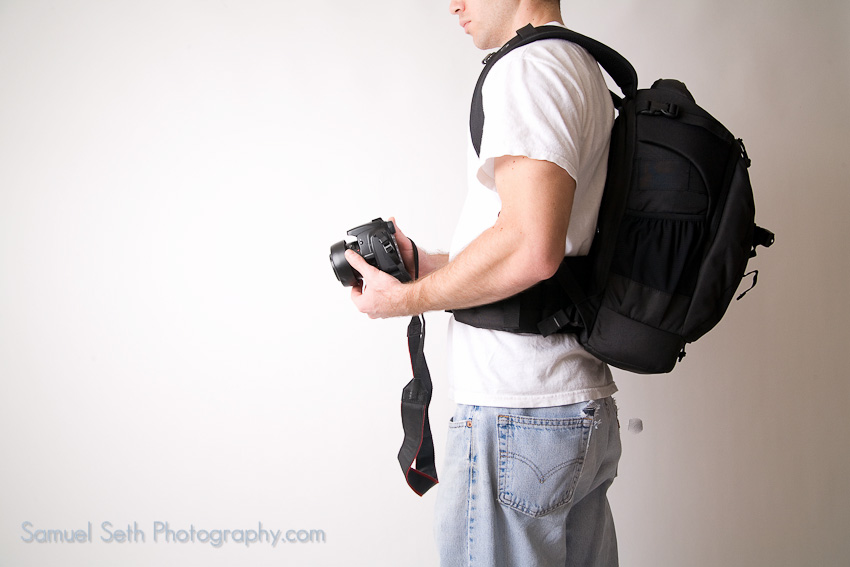 While a brilliant idea on paper, I found a few caveats to this new design.
The first one is when you spin the bag around to your front. The waist strap naturally pulls your clothing with it as it spins around your waist, uncomfortably curling and twisting your shirt. If you're wearing a jacket, or even worse a large coat, the coat tends to really get in an uncomfortable bind around your abdomen if it's not up to your chest by now, leaving your bare midsection to shiver in the cold.
Twisting the bag back the way you found it does not solve the problem. The clothes still stay in a bind, and only by either pulling on your shirt tail or by unbuckling the waist strap to straighten things out do you get back to comfort.
The next problem I have with it is when you go to unzip the access panel to get to your gear. The bag hangs fine in a horizontal position while zipped. But when you begin to unzip the double-zippered opening, you'd better hang on to the top grab handle, because it really drops fast. And with both hands on zippers, there's little you can do to stop what is about to happen.
(It will fall further than seen in the photo if the strap is loosely attached.)

It seems the weight in the bag combined with gravity and the waist straps connection to the access panel causes the bag to drop down to a 45-degree angle. If you have a bunch of expensive, heavy glass inside, its in serious danger of sliding out and becoming a paper-weight after its meeting with terra firma.
I don't have alot of gear, but it made my heart skip a beat the first time I opened it.
The next troublesome area is the annoying access panel again. When you set the bag down to load or unload the bag, you have to constantly hold the flap open with one hand. It really doesn't want to stay open. Not only that, when you do place the bag on the ground the back panel gets all the dirt, dust and grime on it. The material it's made out of is great for durability, but it traps dirt like welcome mat at a rodeo. It's next to impossible to clean, too. Although it does keep the dirt off of your back when you go to put the pack back on.

There are several Lowepro patented slip-lock attachments on the bag. One on each shoulder strap, one on each side of the bag, and two on each side of the waist strap, for a total of 8. Small bungee pouches on the side will hold meal bars or a bottle of water, or other small items of little value, since they can potentially fall out or be snagged by sticky fingered individuals.
The outer most compartment (farthest from your back) is rather deep, and holds a variety of different items such as pens, filters, batteries, memory cards, business cards, instruction manuals or other small items you have to toss in your bag. I keep extra batteries, cables, battery chargers and business cards in mine.

On the access panel flap, there is also a zippered storage compartment, although thin, which allows storage of flash diffuser bounce card thingies, or an owners manual to the camera. Not much else.
You also have 3 memory card pouches with Velcro flaps that work great.
The tripod holder works pretty well and hides away neatly when not in use. The top tripod holder strap can be removed if you so desire. There are also buckled loops at the top to hold a thin jacket or blanket draped across the top of the bag.


Carrying the bag is very comfortable. The load is distributed evenly and the extra-thick padding on the shoulder straps and back pads are super nice to have.

You also have a chin-strap, I mean a chest strap, which is supposed to attach the shoulder strap at the top and I guess keep them from wandering off of your shoulders. But it's so high that it rubs on the top of my collar bone, and kind of cuts into my throat, (it almost reaches my chin!) so I never use it. Perhaps I'll see a need for it on a long trek.
Edit: It has come to my attention (By Snark (see below) and others) that the Chest Strap is indeed adjustable. You slide it down a bit and it fits nicely in the middle of your chest. Definitely usable.
The bag comes with so many dividers, I had like 5 or 6 left over after I arranged it for my gear. It also has a very thick camera pad to keep smaller cameras from getting lost in the deep main-camera top area of the bag.

I think I like this bag though. It's nice and comfortable to carry, handles weight well, and holds alot of stuff. I would highly recommend the bag for people with 2 bodies, a couple of flashes and several lenses. Just don't get carried away with bringing along alot of small extras that eat up room, like battery trays, end caps, and other random gear you don't need.
All Photos taken with the 5D. For this reason, the camera featured in the photos is a Canon XTi, with a BG-E3 grip, and a 50mm 1.8 lens.
Next up, Crumpler's Five-Million Dollar Home, or 5MDH…
Lates