As I said in my last post, which was yesterday, it's time to review Crumpler's Five-Million Dollar Home. Many refer to this bag as the 5MDH, and to save my fingers from having to hit the hyphen button all the time, I'm going to refer to this bag as such.
I frequent a photography forum where the people are really cool, and the helpful information flows as freely as wine in Napa Valley. I always consult the online photog community before making a purchase, asking opinions and getting different views of a product before I plop down my hard earned cash on an item.
It's unbelievable how many loyalists the Crumpler brand has. 9-out-of-10 people I converse with absolutely love the Crumpler line. Honestly, I still don't see the big deal, but who am I to question the obscene (edit: extensive) success of David Roper and Will Miller, the founders of Crumpler Bags. And of course lets not forget Mr.Stuart Crumpler himself who designed the cool logo and who's name is so popular worldwide.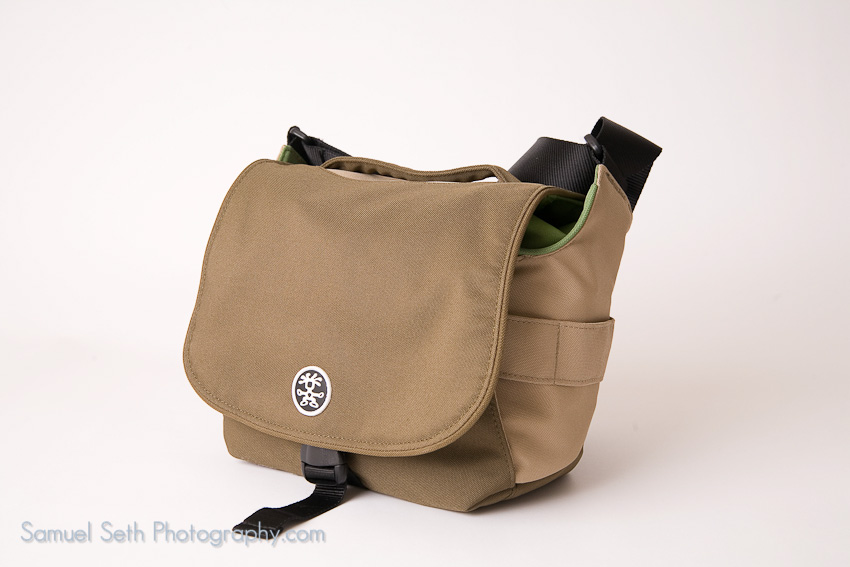 Personally, I think they look like diaper bags, and really kind of feminine. But what I did like about them, is that they're simple, rugged, well built and do not scream "There's an expensive camera in here!" They have kind of urban camo thing going on.
With all the great reviews online of people who are crazy about Crumpler, (combined with the fact that they were running a 40% off sale in December) I decided to give them a try. Since my new gear bag is too huge to lug around everywhere, (not to mention that if it gets stolen, there go's all of my gear) I needed a smaller walk-around bag for just one camera, a flash, and maybe an extra lens with some memory cards or whatever. I wanted something kind of small, but large enough to pack what I needed.
It was a difficult decision between the 5MDH and the 6MDH (Six-Million Dollar Home). As the name suggests, the 6MDH is bigger than the 5MDH, but I found that it is ridiculously larger. It's like, twice the size of the 5MDH, and I didn't want something that large.
Amazon had a great price on the 5MDH but it was only in one color combination- Dark Brown/Oatmeal/Light Olive- Which doesn't look bad, but I really wanted a black one to be even more inconspicuous. Pulled the trigger on that one, and had to wait about 12 days for Free Super Saver Shipping. Gotta love and hate Amazon at the same time…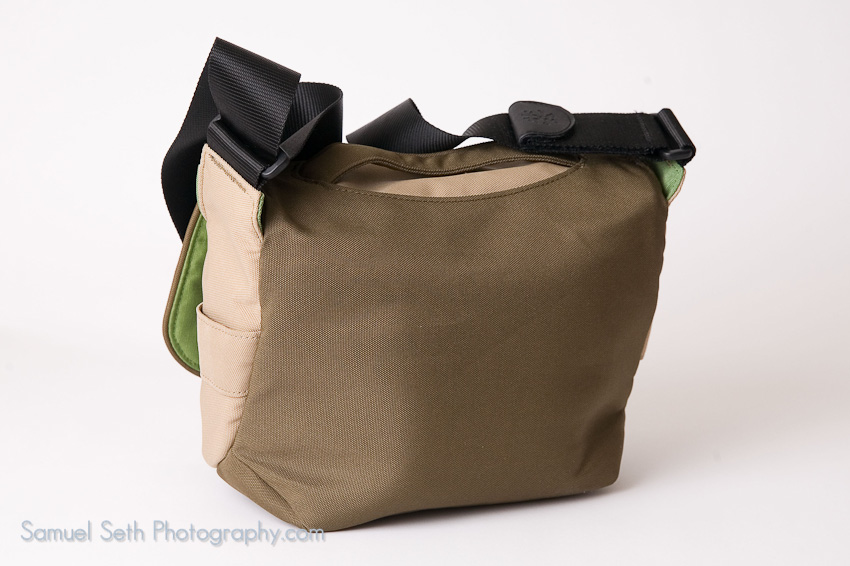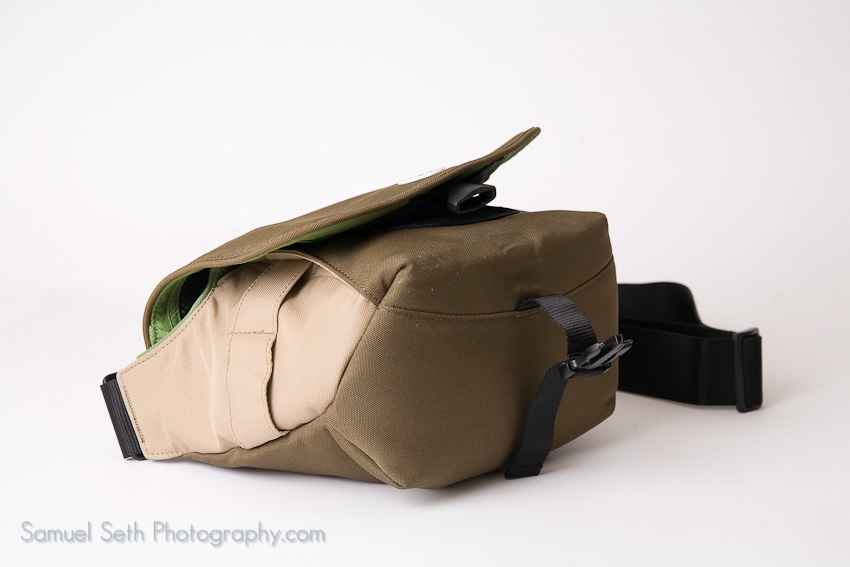 I was hoping to be able to squeeze my gripped 5D with a mounted lens inside the bag, as well as a couple of flashes and my ST-E2 Wireless Transmitter. I was told it wouldn't fit, but I had to try anyway. And try I did. No dice. So off came the grip and it fits nicely inside the bag.
Pictured is the Canon XTi with BG-E3 grip.

The bag comes with two dividers inside. From the factory, the bag is divided into 1/4, 1/2, and 1/4 area inside. You can remove the padded Velcro dividers if you wish, but I found it works the best in this configuration for what I need.



Under the main flap, there is also a secondary flap that covers a smaller pouch, just large enough to carry an extra battery or two, some cables, or memory cards. I keep some business cards in the little pouch inside the secondary pouch, but it will fit memory cards as well as some AA batteries or whatever. There are also some small side pockets on each side of the bag, which will only fit small items, such as wires or maybe a remote shutter release, or camera strap, but when the main flap is closed, it is exposed to the outside, and stuff can fall out or be easily taken out. Also on the sides are a couple of horizontal belt-loop style loops, much like Lowepro's patented Slip-Lock system. In fact Crumpler offers smaller bags, the Thirsty Al's, that latch onto these loops to carry more accessories.
What I put in the bag, is my 5D (no grip) with the Tamron 28-75mm Lens, one Canon 430EX flash, and my Canon 50mm 1.8 Lens. Bare-bones P.J. survival kit, I suppose. I also store one flash-diffusing bounce card, as well as an extra 8-Gig CF Card, and the Video Cable for the 5D, in case I want to display pictures on a TV at a friends house or something. I store my camera lens-down in the middle 1/2, the 430EX on one 1/4 side, and the 50mm 1.8 Lens on the other 1/4 side of the bag. Everything is nice and secure.


From all the pictures I saw, I was expecting a material that was kind of soft to the touch, like a fuzzy brushed wool or something. But the material is indeed made from 1000D Water-Resistant Nylon, which is an imitation Cordura fabric. It kind of feels like waxed canvas, and looks similar to canvas but with more sheen. Kind of stiff and rough to the touch, but no doubt rugged and durable, as well as stain resistant. I also expected the body to be soft and flexible, but it also is kind of stiff and it holds its shape well, which is a good thing.

Wearing the bag is pretty comfortable, as it's not very heavy, given it's size. But the adjustable-length strap could benefit from a padded area. The strap feels kind of cheap, almost like cheap seat-belt material, but I'm sure it's strong and durable. You can also remove the strap if you like, as one end has a brilliant Velcro end that loops around the strap retainer, remaining securely in place unless un-done. The top flap has a handle by means of which you can carry the bag like a small purse, but it looks feminine enough as it is, so I'm leaving the shoulder strap on to wear it like a messenger bag and try to save my masculinity from further questioning.

For reference, I am 6′, and a lean (read skinny) 160 lbs. in these photos.

The flap is secured by very strong Velcro in the front, as well as a nice, rugged plastic buckle that is adjustable in length and easy to connect and disconnect. It takes some effort to pull the flap open. I'm not sure if this is because its new, or because the vast area of the Velcro itself offers so much resistance, but it does take some effort, and is rather loud.
Once open, the flap is easy to hold up to access your gear, or you can fold it behind the bag for an open-top style bag for easier access to stuff. I wouldn't recommend this method as gear can be snagged by passers-by and slick pickpockets. The main flap also has a mesh panel which has a zipper at the top. This is where I store my flash diffuser, because you can't really put anything large in this area, as it will grind on the LCD of the camera.


I kind of like the color and style of the bag. It go's with pretty much anything from Jeans and a T-Shirt or sweater, to slacks and a blazer. But it's definitely targeted more toward the former than the latter. Ideally, I picture a dude wearing sandals, destroyed jeans, a vintage logo-tee with thick-rimmed Weezer style glasses and a wicked bed-head really making this bag groove with his wardrobe.
Overall I do like Crumplers products. They're well built, very functional, stylish, and protect your camera gear not only from scrapes and bangs, but also from undesirable gear-predators looking for electronic equipment they can snag and hock.
I also love the little Crumpler Guy Logo on the flap. It's a cool logo.
Now if only I can get my friends to stop making fun of my "Man Bag", or "Murse" (a Man-Purse). Telling them it's European doesn't work anymore. Perhaps I should say "It's Australian!" Because as a matter of fact, it is…
Lates
Edit: Crumpler has since updated their line of Million Dollar homes, with different styling and features.