Preface: This is the first in an ongoing series of F.A.Q.'s or Frequently Asked Questions. If you have a question or are curious about something, feel free to drop me a line so I can answer it in a future post.
If you've ever shopped around for a wedding photographer, you might notice they have different packages offering one, or two shooters. Here at SSP, I offer packages with both options. So what is a Second Shooter? What are his/her duties? What are their qualifications? Should you choose a package with two shooters?
What it is:
I, myself frequently second shoot for other photographers. One I work with more than any other is Janet of Rainy Day Photos. You may see me mention her quite a bit, as I often blog weddings we've shot together (although I always wait long after she's delivered the gallery to the client before I post my blog.) I love it, too, because it allows me to shoot without stressing as much, and it also allows me to take more time to be more creative with lighting and setup since I'm not having to hurry around getting the shots the Primary Photographer is expected to get. It's pretty awesome.
But basically, a second shooter is just that- another professional there to document the day in addition to the primary commissioned photographer. But there's more to it than that.
A second shooter is someone who accompanies the primary to the wedding, and is expected to get the angles, details, and shots that the primary physically can not get since he or she is in a different location at that very moment. For instance, during the ceremony, one photographer will usually be in the back of the venue where the ceremony is being held. He or she will generally catch shots from that angle, as well as shots of the groom as he catches a glimpse of his bride for the first time that day (this is a shot we generally want to get).
At the same time, the other photographer will usually be at the front of the venue, near the first row of seats, to catch the bride making her grand entrance, as well as capturing the look on her face as her eyes meet the grooms, and as she walks down the aisle. Definitely want this series of shots. (Of course these angles are always dependent on the rules of the venue. Some churches will not allow photographers anywhere near the front, so it's best to check with the venue administrators for their regulations.)
Here's an example of one of my second shooters right after the Bouquet toss, getting the angle he needed in order to get the shot: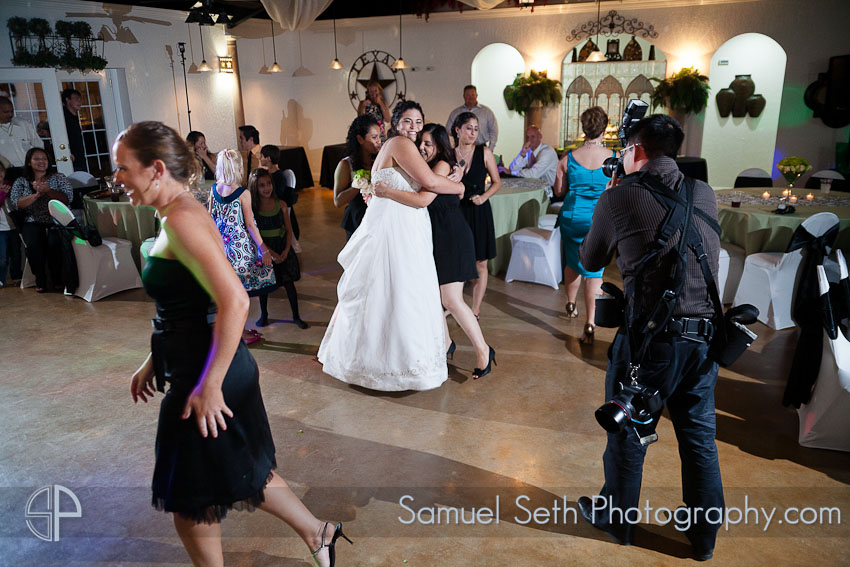 Of course I have full confidence in Kahn, so I didn't mind him getting in my shot, and he also got a better angle and shot since he happened to be in that position at that particular time. Here's the shot he got: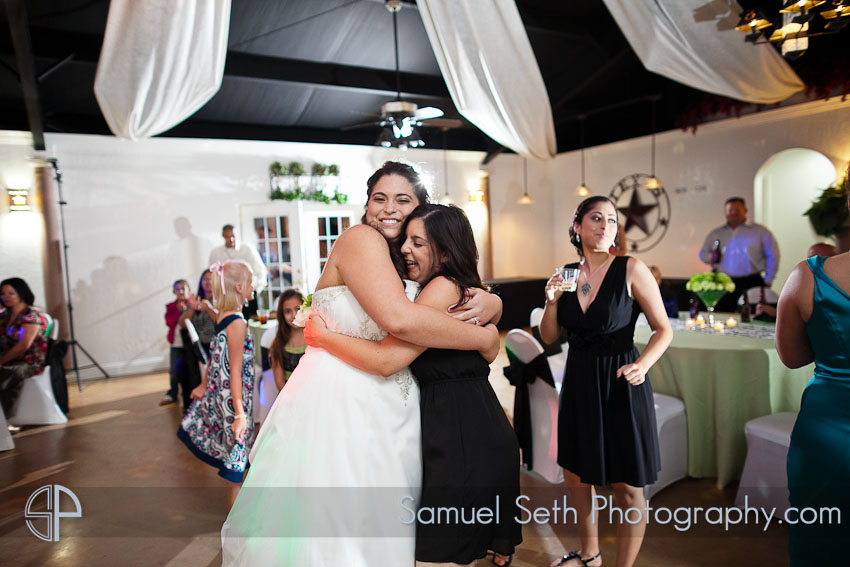 The second shooter will also get certain detail shots that the primary photographer does not have time to get, since he or she will be busy getting the "Must Have" shots of the day. This is especially desirable at larger weddings. One person can only be in one place at a time, so two shooters are better than one.
Qualifications:
A second shooter is expected to have a tall list of qualifications. While they do have the luxury to be less stressed than the primary photographer during the wedding day, they are expected to match or exceed the primary photographer's skill and knowledge of the craft. They should be very experienced in the wedding photography industry, being familiar with the flow of the day and realizing the importance of getting the shot. They should also have the consistency and skill to nail the shots without hesitation. I also like my second shooter to have a similar style to me, so that the images delivered to the client appear as one seamless gallery instead of two different weddings. (Think mixing an art gallery with Monet paintings and Picasso paintings.) A good second shooter helps during formals; they help to pose people, organize groups, fix out of place clothes, fluff wedding gowns, and catch things the primary may miss (such as habitual blinkers!) A second shooter should be able to cover the wedding with minimal communication with the primary, know what's expected, and have the confidence to deliver, without having to follow the primary around like a puppy. Because what good is a second shooter if they're always in the same spot as the primary?
They should also have their own gear consisting of at least two professional grade camera bodies, their own fast lenses, flashes, and memory cards. (Perhaps I'll explain what a 'fast' lens is in a future FAQ.) I usually don't mind sharing gear with the second shooter, but they should have sufficient gear to cover the day without me.
That brings us to another factor. We all know that bad things happen to each and every one of us, and it seems they always happen when we must have everything go well. Because of this, there's always that slim, rare, but very possible case that something very bad may happen to the Primary Photographer on the day of the wedding. They could get severely ill, they could get stuck in a sudden traffic jam (i.e. a major accident on the freeway shutting down traffic for hours), they themselves could get into a traffic accident on the way to the wedding, and more. God forbid any of this happen, but it is something that needs to be considered. I know of one photographer who was in an accident the week of the wedding and broke his right arm- which is your shooting arm (they don't make left-handed cameras). Fortunately he was able to contact another photographer in his network to cover for him in time. If there is a second shooter, he or she is expected to take up the position of the missing primary photographer and cover the day and deliver like nothing ever happened.
Should you choose a package with Two Photographers?
I always recommend to my brides that they choose a package with two shooters. It's a great investment to make for the biggest day of your life. It's your wedding day. There is no 'pause' button, there are no do-overs, and we only get one chance to get the needed shots. Two shooters are also highly recommended if the Bride and Groom are getting ready in two separate locations at the same time. As I mentioned already, one person just cannot be in two places at once, and two shooters is the only way to document two separate locations at the same time. Large weddings with more than 150 guests are also deserving of two shooters. I like to get shots of the majority of the guests at the reception (I call them "Table Shots") and one shooter cannot get all the guests of a 300 guest wedding while also trying to give the bride and groom their utmost attention and coverage.
Ultimately it's up to you. While I'm well able to deliver a great gallery of images shooting your wedding solo, and in fact I do cover many weddings solo, it's always good to have two shooters. Because as they always say: "Two, are better than one."